ACCREDO s.r.o. provides comprehensive outsourcing of business services. We have extensive experience with provision of services in the following areas:
On-line Accounting Slovakia
Online accounting is a very prospective system developed based on analysis of our clients' needs and it provides a closer working relationship with the client. The fundamental idea behind this system is data sharing between users.
Accounting Services
Single-entry accounting We provide our clients with the following: – cash journal, – entering accounting transactions, – cash book, – entering income and expenditure items.
Payroll Accounting
We provide our clients with the following services: preparation of employment contracts, work performance agreements, agreements on work activity, agreements on temporary jobs for students; preparation of material liability agreements.
Tax Advisory Services
ACCREDO s.r.o. provides the following tax advisory services: Preparation of financial statements; Preparation of tax returns; Tax registrations; Comprehensive representation of our clients before tax authorities; Optimisation of tax liabilities.
Translation services
Our company provides its clients with translating services focused on major world languages Our key objective is providing our clients with high-quality translations. We do our best to comply with our clients' wishes regarding deadlines and way of delivery…
Audit
ACCREDO s.r.o. provides audit services through a reputable partnership audit company. We offer: Statutory audits of financial statements and annual report, including review of related parties report.
Company Founding
Successful founding of a limited liability company is preceded by a complex process requiring knowledge of relevant laws, regulations and necessary official and legal actions. People starting their own business mostly lack experience and legal knowledge needed for establishing a limited liability company.
Office Housing
Many clients find leases of expensive office premises and related clerical work as inefficient. Therefore, we offer leases of our virtual office in Šenkvice as the registered office of your company and, upon your request, we will perform all necessary administrative work you may need for running your business.
In 2012, ACCREDO s.r.o.  is celebrating 20 years of its operation on the market. In the future we intend to focus our efforts on pursuing our values and procedures to achieve  our corporate goals. Our corporate philosophy is based on the following principles:
Our Mission
Our mission is to provide high-quality and comprehensive services to individuals and legal entities, on a long-term basis under an individual approach, and to assist our clients in gaining a competitive advantage.  Our key objective is to be a reliable partner for all our clients in implementing their business plans and activities. Our priority is our clients' satisfaction, because we view their success as our own.
Our HR policy is based on professional knowledge and skills of our people and team work.
We have a positive attitude toward innovations because new technologies make our future success.
Our Vision
Building corporate environment supporting development of business activities focused on effective satisfaction of our clients' needs.
Building correct long-term business relations based on mutual faith and respect.
Developing our expertise and sensitivity to clients' needs.
Our Values
Our activities are driven by our clients' needs
Expertise, reliability, mutual trust
Responsiveness and finding solutions
Respect for individuality
Comprehensive services and consulting
Correct behaviour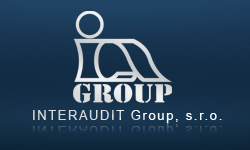 This page provides prices of our services in € excluding VAT.
The prices in our price list are indicative. Upon request, we will be pleased to prepare the most accommodating price bid for you. The final price for provided services depends on number of accounting entries per month, number of employees, scope of provided services and on whether it is a long-term relationship. Should you be interested in our services, we are ready to agree upon a mutually acceptable monthly flat fee.
The price for accounting services is calculated as a sum of a fixed amount for the relevant category and the amount derived from number of documents exceeding the upper limit for the given category. For example, for 50 accounting items, the amount to be paid for the category above 40 accounting items is EUR 39.20  plus additional amount for 10 accounting items is EUR 9.70 .
Our clients, for whom we established a new limited liability company and with whom we signed a contract for an indefinite period, are provided with a 30% discount on list prices over six months.
If you are interested in our services, we willl calculate the price bid for you based on your information regarding your scope of business, number of documents  (supplier invoices, customer invoices, cash vouchers, number of entries at bank statements…) and employees (full-time employees and Agreements on Performance of Work).
REGISTERED OFFICE:

ACCREDO s.r.o.
P.O.BOX 107
Partizánska 1078/1
901 01 Malacky
Company ID: 31 574 483
Tax ID: 202 059 9086
VAT ID: SK 202 059 9086
Bank Account No.:
2625809474/1100
Telephone:
Tel./fax:   +421 905 403 286
Mobile:    +421 905 403 286
Mobile:    +421 949 590 485
ICQ: 248464763 


Skype: accredo.sk
e-mail: info@accredo.sk
Partizánska 1 901 01Malacky